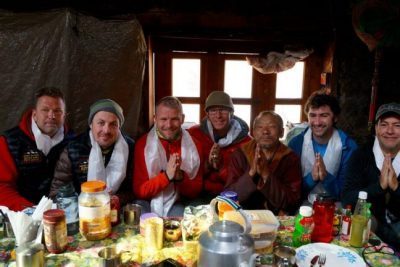 Namaste! (Welcome!)
Ascent Himalayas is a Nepalese trek and climbing company created and run by Mingma Sherpa, one of the most successful Sherpas ever, having summited Everest 19 times (and the series is not finished…).
After more than 30 years working with clients from the biggest outdoor companies from America and Europe, Mingma realized that he can offer a better value for the best service in the market. Ascent Himalayas was born! A team of experienced sherpas and trek guides has since joined Mingma, many of them from the Rolwaling Valley, near the Tibetan border, the home place of many Sherpas including Mingma.
Since its creation in 2011, Ascent Himalayas has convinced a fast-growing number of clients for their trek or climb in the Himalayas region (Nepal, Tibet, Bhutan, India, Pakistan). This is our region, our jewel. We know the place inside out, the people, the culture, the mountains and we would be very happy to share this knowledge with you. From climbing the mythical Everest to a trek to the beautiful Gokyo lakes, our team will put their expertise to your service with the maximum level of security.
Our standard of service is the same or better than the most reputable outdoor companies in the market (as you will see in more detail on this website) but we do not have the high-cost structure of western companies. When you join us for one of our treks or climbs, the whole of your budget will contribute to the growth of the local economy and the improvement of the welfare of our people. Another important aspect for us is the protection of the Himalayas. We have implemented strict measures in all our trips to ensure the removal of all waste from the mountain.
Ascent Himalayas organizes fixed dates treks or expeditions as well as tailor-made trips. We offer trekking, peak climbing, mountain expeditions, adventure activities (such as white water rafting), mountain flights, city sightseeing as well as special interest/pilgrimage tours (in Lumbini, Muktinath or Mount Kailash).
Please do not hesitate to contact us with any questions you might have.
We would be delighted to welcome you to the Himalayas!