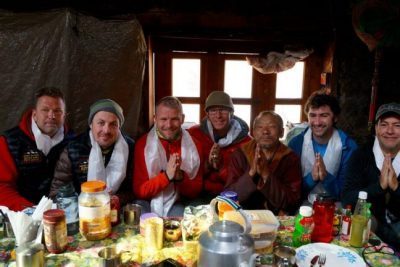 Greetings!
Ascent Himalayas is a trekking and climbing company located in Nepal, owned and managed by Mingma Sherpa, a renowned mountaineer who has successfully scaled Mount Everest 20 times/1st Nepalese to summit Mt k2 and holds 3 Guinness World records. With over 30 years of experience working with clients from America and Europe, Mingma founded Ascent Himalayas to offer top-quality services at a better value than western companies. The company comprises a team of experienced sherpas and trek guides, many of whom hail from the Rolwaling Valley, the birthplace of Mingma and several other Sherpas.
Since its establishment in 2011, Ascent Himalayas has been gaining popularity among clients who wish to trek or climb in the Himalayas region, including Nepal, Tibet, Bhutan, India, and Pakistan. The company has extensive knowledge of the region's people, culture, and mountains and is eager to share it with its clients. Whether you want to conquer Mount Everest or explore the breathtaking Gokyo lakes, the team at Ascent Himalayas will provide the highest level of expertise with maximum security.
Ascent Himalayas' services are comparable to or better than those of renowned western companies, but at a lower cost. When you choose to trek or climb with Ascent Himalayas, your entire budget contributes to the growth of the local economy and the welfare of the people. The company is committed to protecting the Himalayas and has taken strict measures to remove all waste from the mountains during their trips.
Ascent Himalayas offers fixed date treks or expeditions as well as personalized trips. Their services include trekking, peak climbing, mountain expeditions, adventure activities like white-water rafting, mountain flights, city sightseeing, as well as special interest/pilgrimage tours such as those in Lumbini, Muktinath, or Mount Kailash.
If you have any questions, please feel free to contact Ascent Himalayas. They would be thrilled to welcome you to the Himalayas!