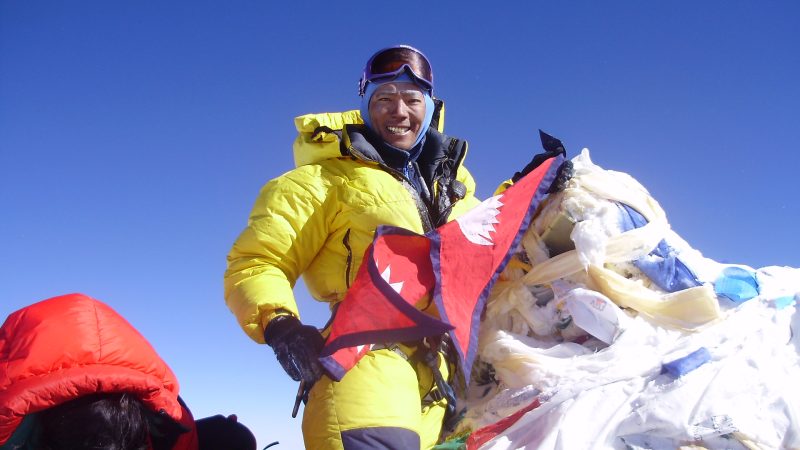 Mingma Tsiri Sherpa born in 1970 in Gaurishanker-1, Dolakha started working in the Tourism sector from 1991. He started his profession as a Porter and now he is one of the national heroes of Nepal. He is the founder of Ascent Himalayas Treks & Expedition (P) Ltd. His background includes over 20 years of experience in Trekking, Mountaineering Guide and Expedition Organizer. He Summited Mt Everest 19 Times and one among first Nepalese to climb the world's second-highest mountain K2 in 1997. He also set a record in Guinness Book Of World Record with his brothers in 2006.
He is one of the most experienced, responsible, dedicated and honest expedition leaders of Nepal. He is now here to share his experiences gained during his previous trips. All interested persons can join with him in one of the best and recognized agency to lead a successful expedition and trekking. He assures you all to provide quality service and a safe journey with experienced workers.
Climbing Experience
1:Mt Everest 19th Times
2:Mt K2(West Ridge) SW Face 1 Time 1991 (1st Nepalese To Summit Mt K2)
3:Mt Dhaulagiri 1 Time 1994:Mt Manaslu 3 Times (2008,2012 & 2013)
5:Mt Shisapangma 1 Time 2004
6:Mt Choyu 4 Times (1998,2001,2009 & 2013)
7:Mt Tilicho 1 Time 1999
8:Mt Bhrikuti 1 Time 1991
9:Mt Amadablam 2 Times (2009 & 2013)
Other 8000m Attempts
-Mt Everest in Autumn Season(Hornbein Couloir) in 1991 made it to 8300m.
-Mt Everest in Spring Season in 1991 made it to 8000m.
-Mt Everest in 1992 made it to 8450m in 1992.
-Mt Everest in 2006 made it to 8500m.
-Mt Annapurna 1 (South Face)  in 1994 made it to 7885m.
-Mt Lhotse(South Face) in 2003 made it to 8250m.
Certification
-International Federation of Mountain Guides Associations(IFMGA GUIDE)
-Goodwill Ambassador Of Visit Nepal
-3 World Records in Guinness Book
-Most siblings climbing together an 8,000-m mountain in 2007

-Most ascents of Everest by siblings (aggregate) 2017

-Most siblings to have climbed Everest in 2018